Patches installation guide
I. For Steam users
Please log into steam and go to your library. Please right click on your game "Might & Magic X - Legacy" and choose "properties".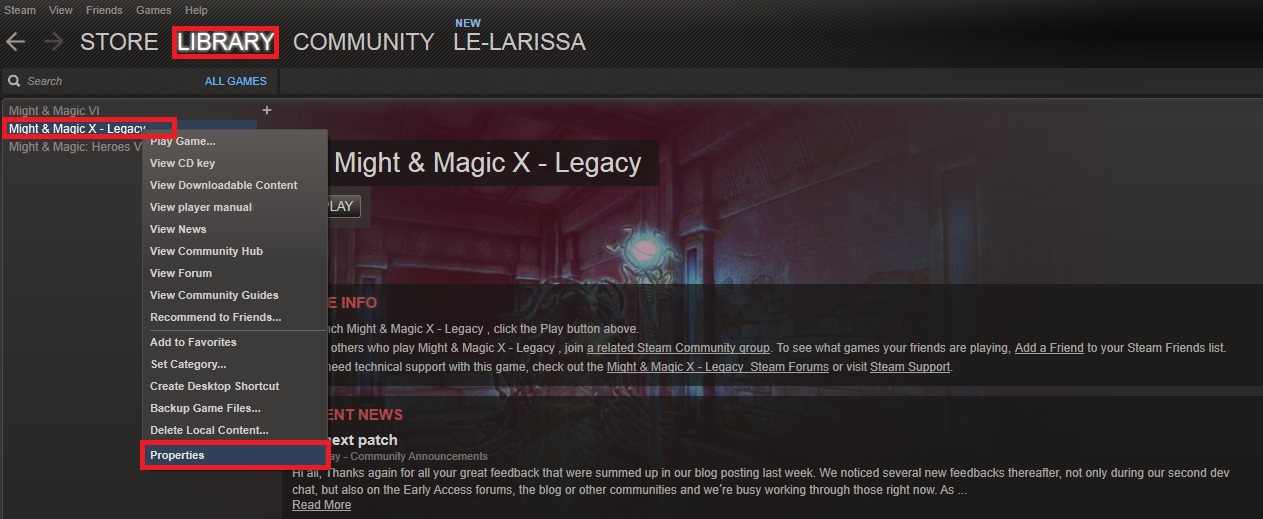 Go to the "BETAS" and place your cursor into the code field: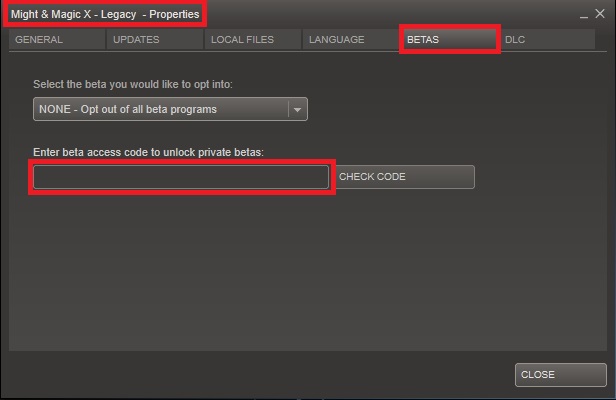 Please copy/paste the following code into the field to unlock the beta: MMXLBeta$WorldofXeen01
And press on the button "CHECK CODE":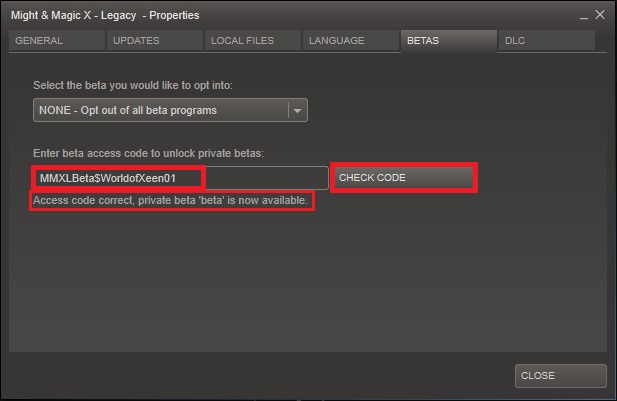 Beneath the code field you will now receive a confirmation, that this code was correct.
Now please choose out of the dropdown the beta version and press "CLOSE" thereafter: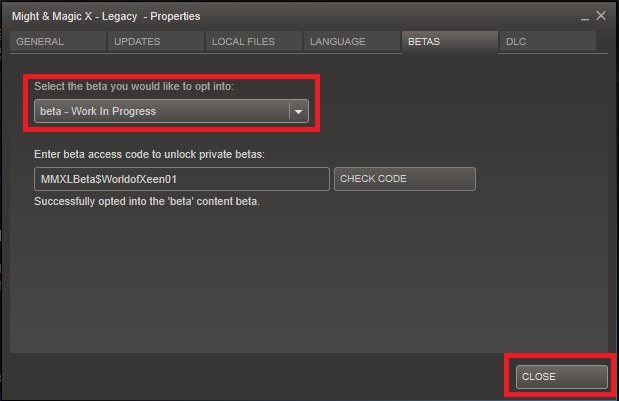 Steam will now start to download the patch (266.4 MB). After full download press play as you are used to. Now have fun playing with the new patch! :)
II. For everyone else
You can download the game ("Might & Magic Legacy X Legacy Patch 1.0.1.exe") on the Beta patches page. After downloading the exe (~450 MB), simply double click on it and it will patch your game automatically.
III. Disclaimer
It was important to us to provide you this patch as quickly as possible, therefore it did not go through all the different "green light channels", a patch normally needs to go through, in order to be an "official patch". This is why the patch is labeled as an "unofficial patch".
Unofficial patches are only available through the beta for Steam users or through the download link for all other users.
Our patch log looks like quite a lot of smaller bug fixes, doesn't it. However please be aware, that fixing something here may break something there. So all in all, the team worked quite a bit last week, but please note that follow-up bugs may occur.
Please note that we worked on fixes regarding save/load issues, which is why we cannot guarantee that your save games work after the patch. If you want to keep your save games, you may want to create a copy of your save file in a different, separate folder.
Might & Magic X – Legacy Open Dev Blog is the link between the dev team and you. As we give you the opportunity to play the game at an early stage of development, we invite you to contribute to this great project. To do so, the dev team proposes you vote on a wide range of subjects: community dungeon, music, monster type and many more aspects! Furthermore on the Open Dev Blog you'll gain great insight into the game development process, discovering work in progress materials and early concepts. Join the Open Dev Blog and make your opinion matter!
current vote
There are no votes going on right now.
latest vote
12 %
57 %
31 %